Cloud-based ERP systems are more common than ever before. Today, nearly every ERP vendor offers some form of cloud deployment option, and some have ditched their on-premise ERP offerings altogether.
But there are still several reasons why a small or midsize business might choose a traditional on-premise ERP system, which, until recently, was the norm in the ERP space. Which one is right for your organization? Well, only you can make that decision, but this rundown on the pros and cons of each should make it easier.
By knowing the advantages and disadvantages of each type of ERP system, business owners can determine the best fit for their SMB, allowing for a more informed allocation of resources and a more efficient ERP solution.
Deployment and pricing of cloud ERP vs. on-premise ERP
The biggest difference between these two systems is how they are deployed.
Cloud-based software, also known as Software-as-a-Service (SaaS), is hosted on the vendor's servers and accessed through a web browser.
On-premise software is installed locally, on a company's own computers and servers.
Some vendors also offer "hybrid" deployments, in which cloud software is hosted on an organization's private servers (more on this later).
Another key difference between cloud and on-premise solutions is how they are priced:
While there are many exceptions to this rule, in general, cloud software is priced under a monthly or annual subscription, with additional recurring fees for support, training and updates.
On-premise software is generally priced under a one-time perpetual license fee (usually based on the size of the organization or the number of concurrent users). There are recurring fees for support, training and updates.
Thus, on-premise systems are generally considered a capital expenditure (one large investment upfront). A cloud ERP solution, on the other hand, is typically considered an operating expenditure (an additional overhead cost the organization will continue to pay).
Cloud software's low cost of entry—especially compared to hefty upfront perpetual license fees—has contributed to its widespread adoption. According to one recent study, 93 percent of enterprises currently use cloud-based software or system architecture, and use of hybrid cloud systems increased from 19 percent to 57 percent in one year.
Over time, however, system costs tend to converge. Below is a chart showing total costs of ownership (TCO) over 10 years for both cloud-based and on-premise software.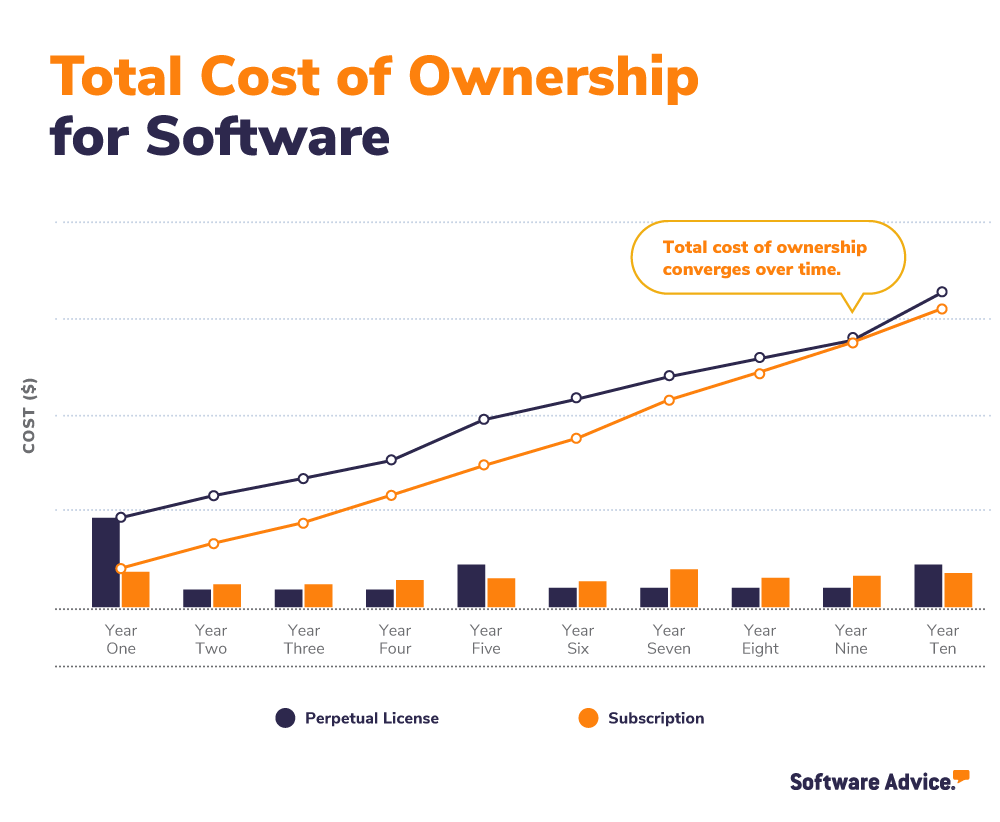 Advantages and disadvantages of cloud ERPs
Security is often the top concern for prospective ERP buyers. Small wonder, considering the critical information stored in an ERP system—including company financials, corporate trade secrets, employee information, client lists and more.
But while buyers once were wary about the security of cloud-based software, many are becoming less skeptical today (evidenced by the adoption rates above).
Reputable cloud vendors have strict standards in place to keep data safe. To further ease concerns, prospective buyers can seek a third-party security audit of a vendor they're considering. This can be especially useful if the vendor is less well-known.
Most cloud systems enable easy mobile accessibility, and many even offer native mobile apps. But this ease of access also comes with greater security considerations, especially if employees are accessing company files on their personal mobile devices.
Similarly, more accessibility means less customization—and cloud ERPs offer less flexibility for businesses that seek to tailor their system to their hearts' content. But organizations with less specialized needs, such as general consulting firms, can get by just fine with a cloud system's out-of-the-box capabilities.
Cloud ERPs are therefore best-suited for small and midsize businesses seeking lower upfront costs, system stability and ease of access.
Advantages and disadvantages of on-premise ERPs
You'll typically find many of the same features in an on-premise ERP system. However, there are a few notable differences in the two deployment strategies.
In general, on-premise systems are much easier to modify. The ability to customize to their specific needs and requirements is paramount for many organizations, especially in niche industries, such as specialized manufacturers with unique processes.
On-premise ERPs put more control in the hands of the organization, up to and including the security of its data. It's therefore essential that a business be capable of safeguarding an ERP's most sensitive information—a frequent target of cybercriminals.
Mobile accessibility can pose an issue for on-premise deployments. These often require a third-party client to communicate between a mobile device and the on-premise software. It's definitely not an insurmountable problem, but it can be a pain point.
On-premise ERPs are therefore best-suited for larger enterprises with higher budgets, a desire to customize system operations, and the existing infrastructure to host, maintain, and protect ERP data.
Here's a handy comparison chart for both deployment options: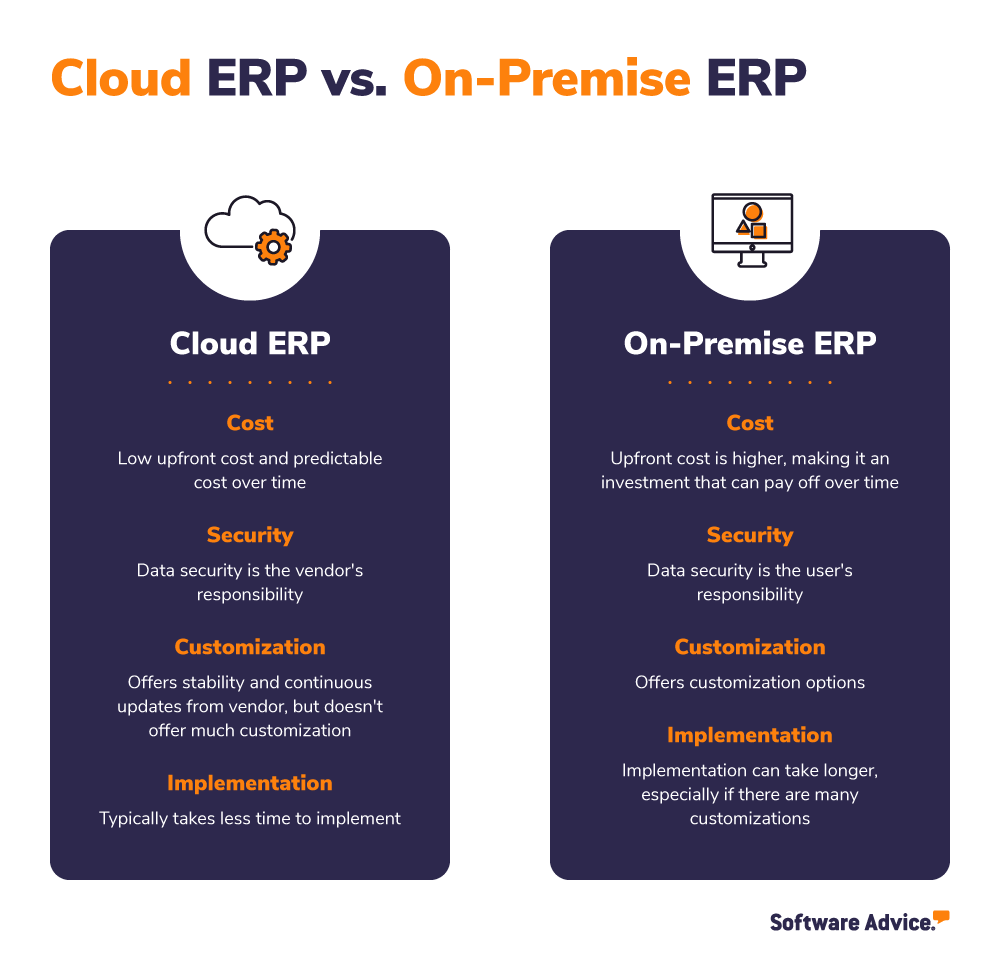 Conclusions and next steps
When it comes to choosing a new ERP system, there are more ERP options than ever for businesses of all sizes. Cloud-based deployment models have made this software more accessible for SMBs—though these systems come with a few drawbacks, such as more limited customization and potential security concerns.
Conversely, on-premise ERP systems offer advantages in customization and control, but are more expensive upfront, and many don't support mobile. This can be problematic for smaller buyers but, as is usually the case, it depends on the specific needs of the individual business.
Still not sure which deployment model is right for your organization? Connect with one of our advisors to help you find the right tools for your unique needs and industry.